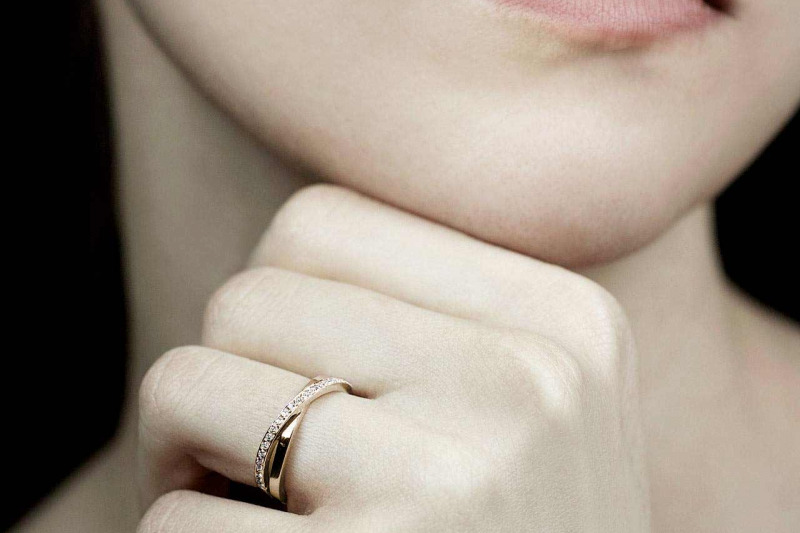 Rose Gold Engagement Rings : Hue of Romance
Brides, understandably, desire one-of-a-kind wedding bands. A wedding band should be a symbol of your love as well as a reflection of your own style. Rose gold wedding bands are certainly unique and intriguing, but are they appropriate for you? Rose gold has been in and out of style throughout the years, but it is now ubiquitous: rose gold jewelry, fashion accessories, housewares, and even mobile phones. If you're searching for wedding rings that represent your unique personality, rose gold is the way to go. It may not yet be a classic or conventional item like yellow gold, but it is unquestionably a fashion mainstay.
Rise of Rose Gold
Rose gold is a reddish-gold metal, as the name suggests. Rose gold engagement rings are created by combining pure gold with copper. The more copper used, the redder the gold becomes, resulting in a romantic and one-of-a-kind piece of jewelry. Rose gold may require more regular polishing and cleaning than other metal combinations, but with careful care, it will keep its color and brilliance. Rose gold, often known as Russian Gold, was originally utilized in early 19th century Russia by renowned jeweler Carl Faberge in his notorious Faberge Eggs. Rose gold became fashionable in the United States during the opulent and feminine 1920s and was used in engagement rings and exquisite jewelry. Cartier was a driving force behind the trend, creating exquisite rose gold fine jewelry studded with exquisite jewels and diamonds. Today, rose gold has reclaimed its position in the style pages of your favorite publications, in the hands of trendsetters, and in the hands of you, my future brides. Rose gold is a delicate, romantic gold hue that may be found in fine jewelry and engagement rings that are both beautiful and elegant.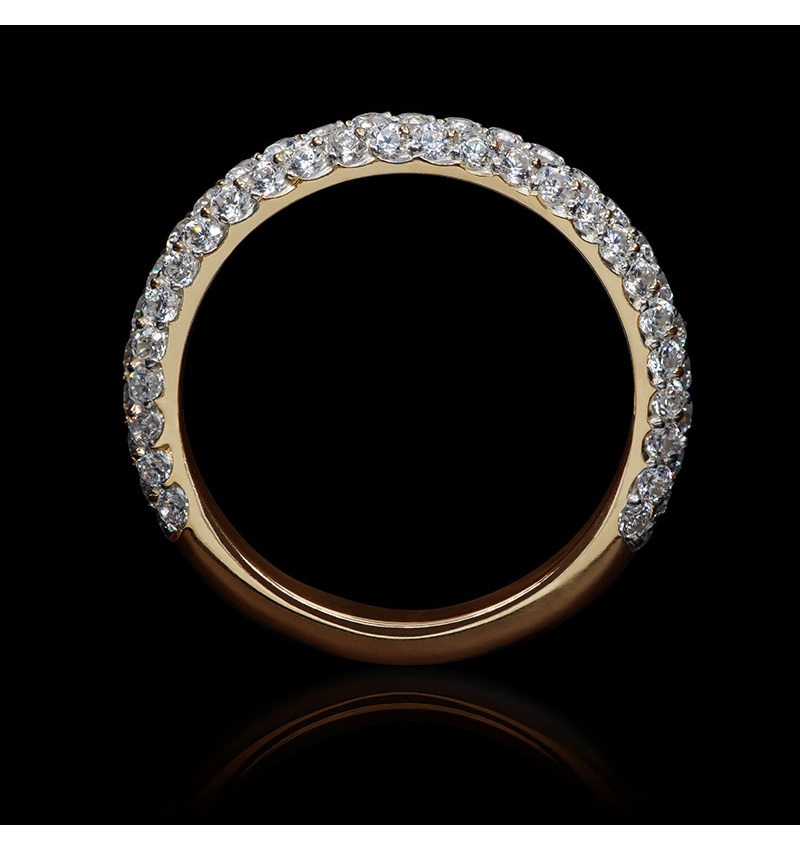 Hue of Romance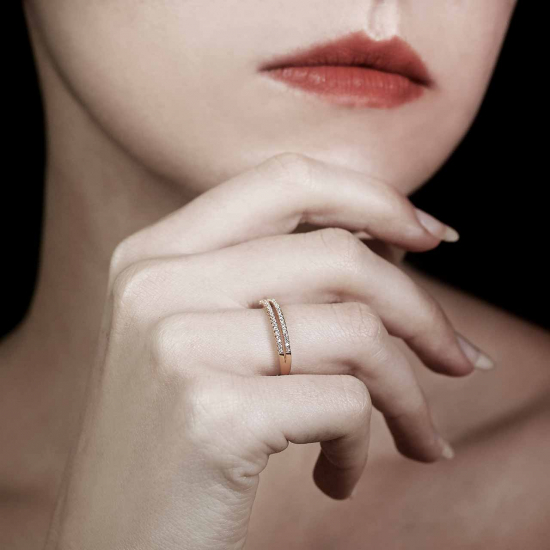 For good reason, engagement rings made of this metal are highly popular and stylish. Traditional yellow gold, silver, or platinum may be too harsh for certain people's skin. Despite this, rose gold appears to complement a wide range of complexion tones and hair hues. It's made with a soft, traditional palette that'll appeal to both fashion and tradition. A rose gold engagement ring adds a special touch to any ensemble. It also goes nicely with nearly any other metals and accessories of any hue. This coppery-pink metal can give the right accent to any ensemble, whether you favor earthy tones or a flash of color.
There are a few subtle things to consider when choosing a rose gold diamond engagement ring for someone special. To begin, make sure your diamond grade is on the lower end of the color spectrum. According to our gemologists, a stone with a colorless grade would work best because the rose set will add color. Second, the depth of red in the metal must be considered. The 18k rose gold has a lighter rosy hue, but the 14k rose gold has a deeper pink tinge. This decision is based on your particular someone's characteristics.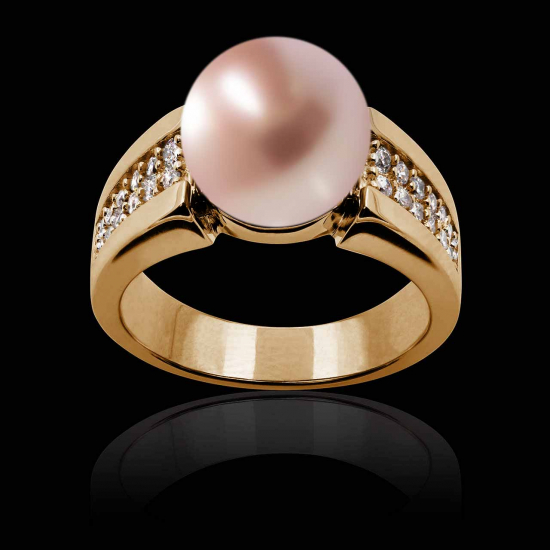 A rose gold diamond engagement ring is a beautiful choice for a loving lady. The ring has a really feminine and lovely vibe to it. Rose gold may also be a good choice if your particular someone has a down-to-earth personality. Furthermore, if your companion likes the old era/look, this metal might offer a different spin to it. On an antique diamond engagement ring or a modern design, rose gold looks stunning. Rose gold is very attractive to males since it exudes a youthful and trendy vibe. When it comes to diamonds, the mix of rose gold and gleaming stones has a unique appeal. Against the rose color of the metal, the diamonds appear warm and brilliant.
The ring design of your rose gold engagement ring is highly influenced by the individual's personality. Even if this is true, there are some designs that appear particularly lovely in rose gold. One of our favorites is a simple solitaire ring with a bezel setting to highlight the solitary central stone. A rose gold halo diamond engagement ring is a very charming combination. Rather than the diamonds merging into the metal, the rose gold in this item becomes the focal point. Traditional but still being unique.
Because lesser karat alloys have a richer rose tint, rose gold is more affordable without sacrificing its beauty. This also has the added benefit of making rose gold much more durable.
Choosing the Perfect Ring Setting
While the famous "4Cs" are frequently mentioned in engagement ring recommendations, there is a fifth aspect that may make or break a stunning ring: the setting. While the stone is unquestionably the focal point of an engagement ring, the correct setting may improve everything from cut to color, make a little stone look larger, and even protect stones from damage or loss. Knowing your way around popular types of engagement ring settings will make your search for the perfect combination even easier. With more brides-to-be designing their
own unique engagement ring
s and enhancing ready-made styles, knowing your way around popular types of engagement ring settings will make your search for the perfect combination even easier.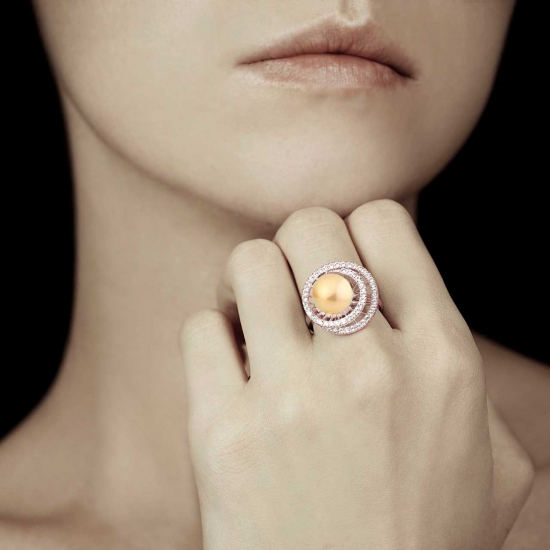 The Prong Setting: Prongs are tiny strips of metal that surround a cut stone from beneath, and are arguably the most well-known design in engagement rings. Simple rounded-end strips of precious metal may be used in this claw-like arrangement, or the prongs themselves may be slanted at the ends for a more solid grasp. While a spherical stone with a brilliant cut is the most frequent combination, this design may accommodate almost any shape or size of stone. The more prongs in the setting, the more secure the stone is, however they may also block some light from entering the stone. When the ring is cleaned, most jewelers recommend checking the prong settings and placements just to be cautious.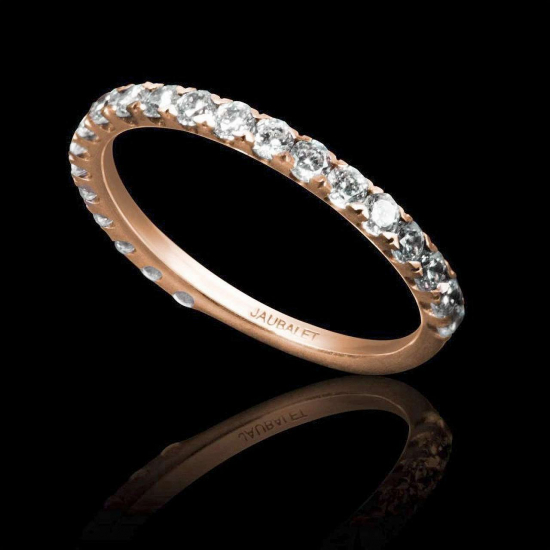 The Halo Setting: A halo setting "rings" a bigger stone with a succession of smaller stones, as the name indicates. The rationale for this design is multi-faceted: the overall appearance of the collective stones might mimic a single bigger stone, they make the center stone appear larger by contrast, and the added shine they give adds a contemporary touch to a classic solitaire foundation. Princess cut engagement rings and round cut engagement rings are popular choices for this setting.
The Bezel Setting: This technique uses a thin coating of metal to "frame" a cut stone, effectively attaching it along the girdle (side) of the stone's edge. The bezel resembles a picture frame that encloses a stone along its borders, whilst other engagement ring settings resemble a pedestal. Though the bezel does rise a little at the edge, the top or "head" of the cut stone and the metal of the bezel work together to produce a smooth top surface to the final ring. This makes it a great alternative for active users or those who don't want hair, clothes, or other debris caught in ring prongs or elevated settings.
Jaubalet Paris: Buying Guide
Why chose Rose Gold
Rose gold has become a popular choice for engagement rings with warmer colors I, J, and K center diamonds. It's a widespread misconception that rose gold hides the warm tone of diamonds that are near colorless to faintly colored. Because diamonds reflect the colors in their environment, warmer diamonds set in rose gold might appear to have a pink tinge of warmth, which is extremely attractive. If you want to use rose gold for your ring because you want to utilize a weak color diamond, a setting with platinum prongs will assist the diamond to reflect white from beneath while blending in with the rose gold on the ring from the top.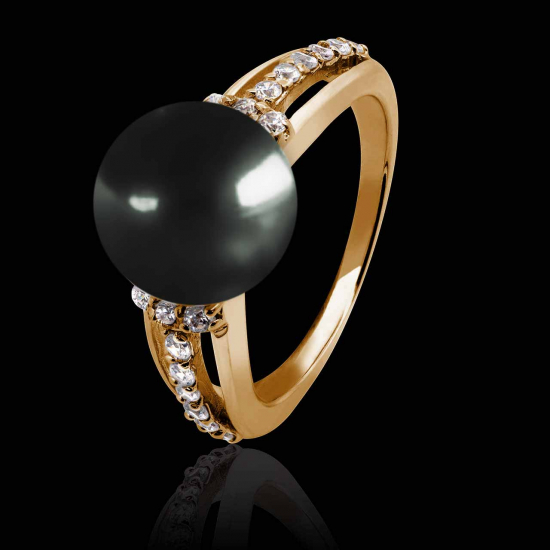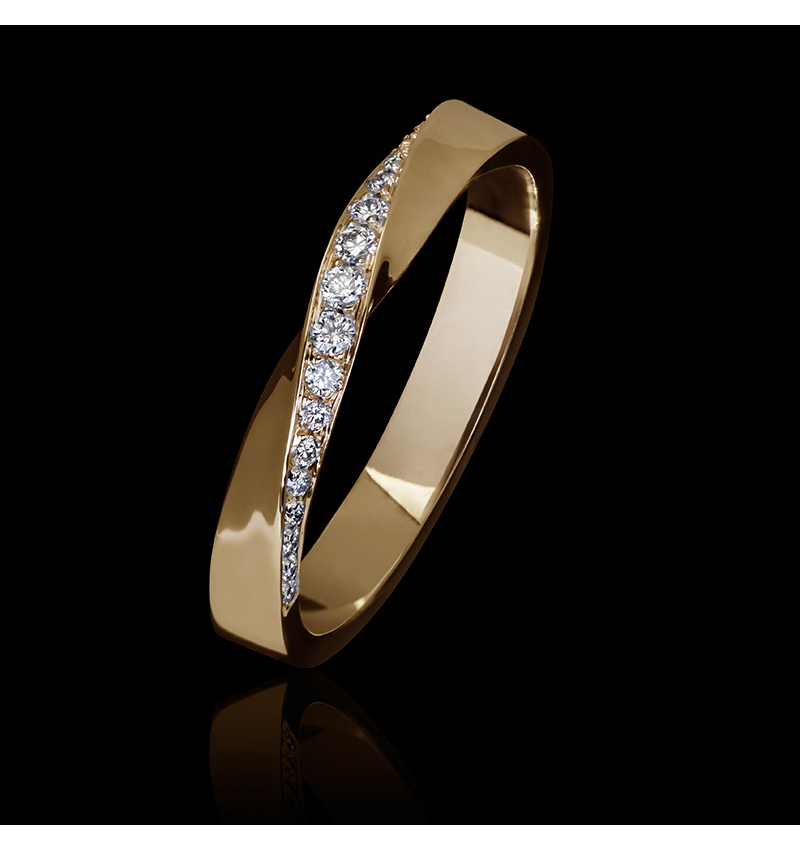 The trend of Rose Gold Engagement Ring
Rose gold has long been the most popular metal for vintage-style engagement rings. Ryan Reynolds and Blake Lively are to blame for today's rose gold engagement ring craze. Rose gold has found its way into mainstream engagement ring designs since the couple's 2012 engagement, including contemporary bezel ring settings, thin band pave ring settings, and even three stone engagement rings that are normally fashioned in platinum exclusively. Rose gold engagement rings are for people who want something different and delicate. The blush hue is a sought-after and distinctive choice, with rose gold engagement rings complementing most skin tones and diamonds ranging in form, cut, and color.
Taking Care of your Engagement Ring
It's critical to understand what chemicals your engagement ring comes into touch with while learning how to care for it. Cleaning chemicals should not be used while wearing your ring, just as they should not be used when doing chores or working out. Several cleaning solutions have been known to dull the gloss and shine of fine jewelry, particularly rings, where your hands are more likely to come into touch with these chemicals. All strong substances have the potential to corrode the ring's metal. Many colored valuable gemstones, such as emeralds, can be harmed by bleach. If you want your ring to last a lifetime, clean it using our cleaning pen or a soft-bristle toothbrush and a little dish soap.