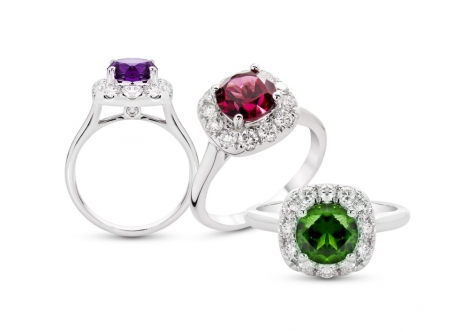 What do Gemstones Represent for Engagement Rings?
Engagement rings are the most symbolic item of jewellery a woman will be given. This is why it needs to be the right one, as it will be worn every single day for the rest of her life. At Jaubalet, we know how unique every woman is, and want to make sure this is reflected in the engagement ring they will wear, which is why we offer a wide array of engagement rings, from diamond engagement rings and ruby engagement rings, to emerald engagement rings, sapphire engagement rings and even black diamond engagement rings. All of our engagement rings are fully customisable, enabling you to choose the gemstone, its size, colour and shape, as well as the material of the ring, whether you prefer gold, rose gold or white gold. 
Ruby Engagement Rings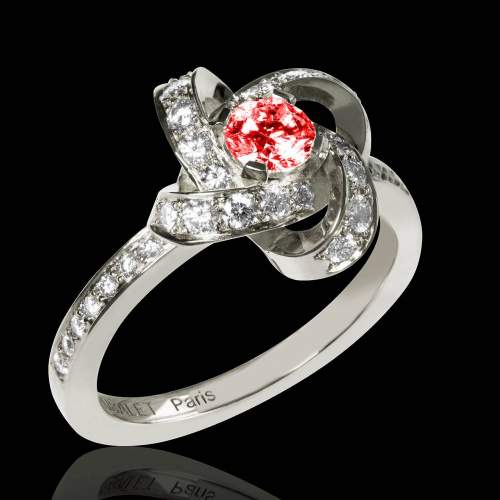 For centuries the ruby has been the most coveted gemstone, and is still considered one of the most valuable to this day. In ancient times, emperors and kings saw rubies as a most prized possession, and also believed that wearing a ruby gave good fortune of its owner. The most valuable ruby is the Burmese Ruby, which has a very distinctive colour, often described to be similar to a pigeon's blood, with passionate, hot, full red hues which will make any person fall in love with it. The ruby is nowadays symbolic of love, passion and emotion, hence making the perfect engagement ring for your loved one.
If you are looking for a breathtaking ruby engagement ring, our Mount Olympus Gold Ruby Ring can be mounted on white gold or yellow gold, and features a central raspberry coloured diamond or intense red ruby (choose from 1ct, 1,5ct or 2ct). This stunning ring is paved with 112 stones - why not personalise it and choose from diamonds, rubies, emeralds or sapphires. 
Blue Sapphire Engagement Rings 
The word Sapphire originates from from the Greek word "sappheiros" - and is a precious stone that comes in both pink and blue. For centuries, sapphires have been referred to as the ultimate gemstones, symbolising honesty, loyalty, purity and trust. Sapphires can be found in many parts of the world, although mostly in Myanmar (Burma), Kashmir and Sri Lanka. As with most other gemstones, the purer the blue of the sapphire, the greater the price is likely to be.
If you are looking for a blue sapphire engagement ring, our Vigne Blue Sapphire Engagement Ring could be the perfect ring for your loved one. Available with sapphires of 1 carat, 1.5 carats and 2 carats, you can also choose whether you would like the central stone mounted on white gold or yellow gold and whether you would prefer a lighter or more intense blue for the stone. This uniquely shaped ring is a timeless piece that will make any partner fall in love with it immediately.
Emerald Engagement Rings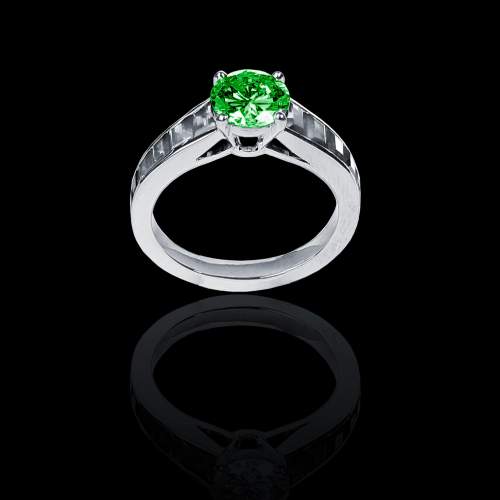 Emeralds are commonly known as the gemstone of spring, as it green represents love and rebirth. The emerald was also historically believed to come from Venus, hence also being associated with fertility. Emeralds are symbolic of eternal youth, and have been found buried with Egyptian mummies. 
For a unique emerald engagement ring, the Serpentine Heart Emerald Engagement Ring is a 4.g ring with a heart-shaped central emerald. If your partner is looking for something different to make her stand out from the crowd, this could be the perfect ring. Choose from an 18 carat yellow gold or white gold to complement the emerald; truly personalise the ring and choose a lighter green or a darker, more intense green.
Black Diamond Engagement Rings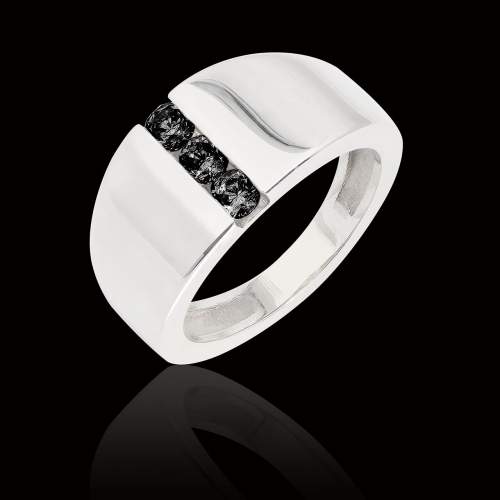 Diamonds have always been admired and are fascinating, desirable gemstones. For thousands of years diamonds were thought to be one of the rarest gemstones in the world, which is why they are so valuable. Diamonds have been prized for their healing powers, and for centuries, diamonds have been loved by women and men. They are the ultimate gift and a symbol of eternal love. 
Black diamonds are becoming increasingly popular among jewellers who have fallen for the charm of this mysterious stone. When choosing a diamond engagement ring, always pay attention to the diamond's Colour, Clarity, Cut, and Carat.
At Jaubalet we offer a diverse range of black diamonds engagement rings - you can be sure to find the perfect ring to complement your proposal. The Perrine Black Diamond Ring has a princess cut black diamond as its central stone - choose from a 1ct, 1.5ct or 2ct black diamond in yellow gold or white gold, and from diamonds, black diamonds, rubies, emeralds or blue or pink sapphires for the paving.
At Jaubalet we provide a 3D wax model for every ring, giving you the opportunity to try or take a better look at the ring before you order it. You can modify this unique piece as many times as you like before it is manufactured, to ensure your personalised design is exactly what you expected.
Be sure to speak to one of our team to help you design the perfect engagement ring for your partner.