Are you looking to buy an engagement ring for you beloved? Are you feeling slightly overwhelmed by the wide range of engagement ring designs to choose from?  To help you combat this, our expert Jewellers have put together a list of their favourite and the most popular engagement ring designs, to which you can also add a personal touch by customising the rings specially for your loved one.
Valentina Diamond Engagement Ring
If you are looking for a classic and elegant ring the Valentina Diamond Engagement Ring is the ring for you. This 18 carat gold ring can be customised depending on the gemstone you prefer as well as gold; whether yellow or white gold. This ring will definitely be adored by your future husband or wife, and will perfectly complement your proposal. This solitaire diamond engagement ring is a design that will look amazing with every outfit and suit every occasion. A timeless design that won't ever go out of fashion.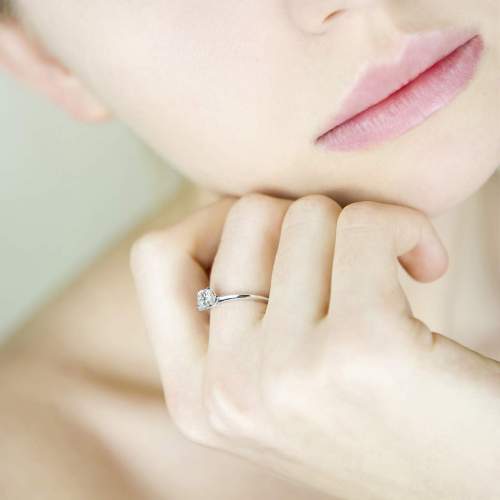 Hera Black Diamond Engagement Ring
This spectacular black diamond engagement ring is another fabulous option to consider. The weight of the ring in gold is 5.6g, the central stone is available in 1 carat, 1,5 carat and 2 carats. Before purchasing any of our engagement rings, a 3D wax model will be produced and sent to you, giving you the opportunity to try and modify the ring before you place your final order. Be sure that this stunning ring will make the perfect engagement ring for your loved one and will be cherished for years to come.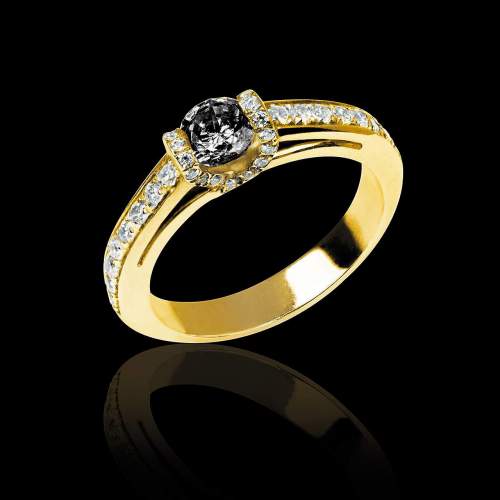 Tsarine Pink Sapphire Engagement Ring
The 2.7g Tsarine Pink Sapphire Engagement Ring is a beautifully carved ring that can be customised in either white or yellow gold. Its central gemstone, an oval cut Pink Sapphire, represents honesty, loyalty, purity and trust, and is therefore the perfect way to communicate your appreciation of these qualities to your loved one. The central pink sapphire is available in 1 carat, 1,5 carat and 2 carats. The older versions of this ring were designed so that the central stone would sit in a six-claw setting, making it appear smaller. However, this new four claw setting increases the height of the central ston, whilst adding more depth and dimension to the ring, making it an even brighter, stunning ring.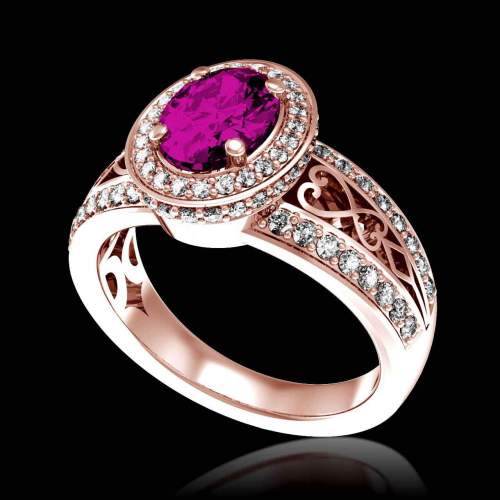 Emerald Mount Olympus Engagement Ring 
Emerald Engagement Rings are beautifully vivid and unique engagement rings. Our Emerald Mount Olympus Engagement Ring is a 2.7g white gold ring with 1.12 carats of paved diamonds. The weight of the emerald is 0.88 carats, making the perfect discrete, elegant and dazzling engagement ring that will demand attention.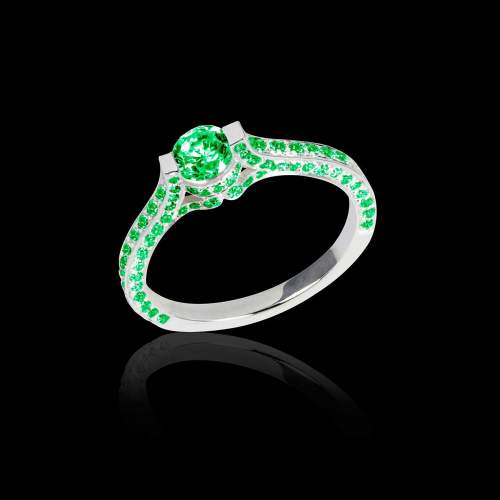 Princess Bora Bora White Pearl Engagement Ring
This 8.5g Princess Bora Bora White Pearl Engagement Ring is a classic and unique ring featuring a rare White 14.5-15mm Pearl. Pearls are one of the oldest gemstones in the world, and were once considered the most valuable. It is thought that pearls bring prosperity, luck and wealth to the wearer, as well as being symbolic of beauty and purity. If your fiancée loves to stray away from tradition and go for something different, then this beautiful engagement ring is one to should consider. Why not personalise it by choosing a Gold or Black Tahiti Pearl as the central gemstone? Whether you choose yellow gold or white gold, one thing is for sure; no one else will have a engagement ring quite like this one.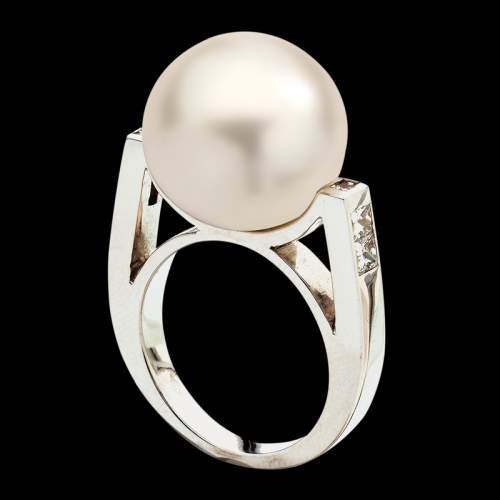 Elodie Blue Sapphire Engagement Ring 
After Prince William got down on one knee and proposed to Kate Middleton in 2011, blue sapphire engagement rings surged in popularity. If you're after a blue sapphire engagement ring that's a little different, then consider this Elodie Blue Sapphire Engagement Ring. Featuring a radiant central blue sapphire, you can choose from emeralds, pink sapphires, blue sapphires, diamonds or rubies for the paving, and from white or yellow gold for the ring.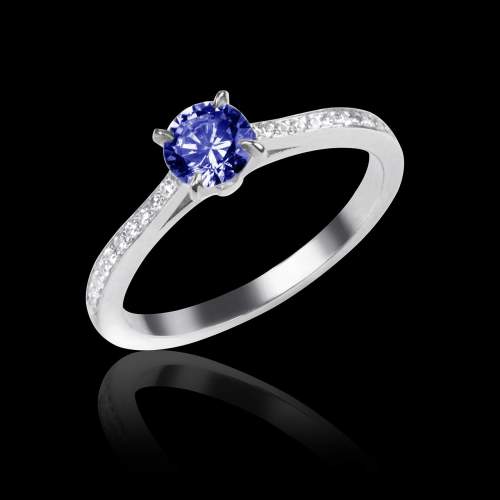 Perrine Ruby Engagement Ring 
The ruby is associated with love and passion. The Perrine Ruby Engagement Ring is a fiery 4g  ring with a central princess cut ruby that will make your beloved remember this occasion forever. Rubies symbolise sensuality, love and desire - perfect for an engagement ring. As rubies are one of the rarest gemstones, this ring will be an ideal choice, if you are looking for a unique engagement ring to be cherished forever.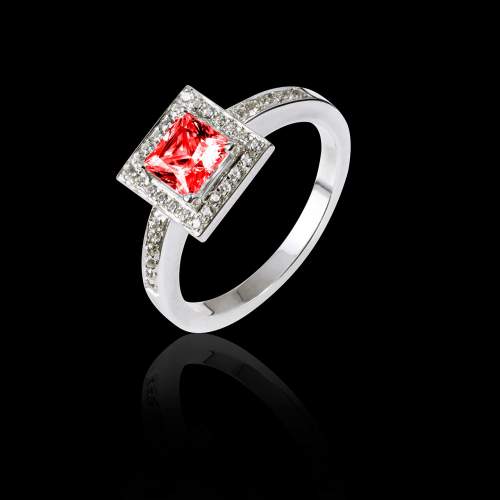 Cache Cache Black Pearl Ring 
The black Tahiti Pearl contains various undertones and overtones of green, pink, blue, silver and yellow making it a most unique and mesmerising pearl. They are extremely rare and largely considered one of the most beautiful pearls in the world. Black pearls are a known as a symbol of hope, others also saying they carry healing powers, and protect the wearer from negative energy. The Cache Black Tahiti Pearl Engagement Ring is also available with a central White pearl, Gold pearl or Pink Pearl.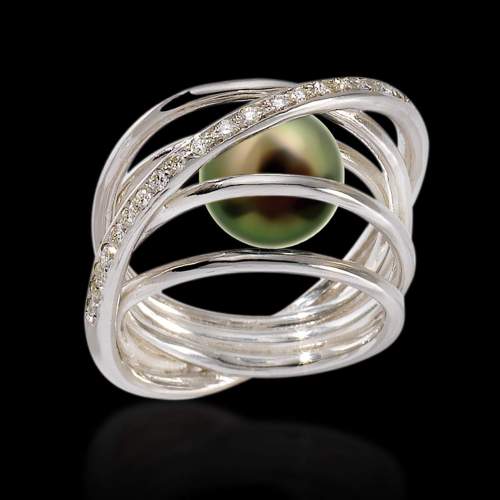 If you are thinking about proposing to your loved one, be sure to speak to one of our team to help you design the perfect engagement ring!