If your partner loves to stray away from tradition, then you should consider a black diamond engagement ring. Also known as carbonado, natural black diamonds are only found in Central Africa and Brazil. Composed of graphite, amorphous solid and diamond, natural black diamonds are usually GIA certified. If you want to buy the love of your life a bespoke engagement ring that is truly unique, here are a few reasons why you should buy a black diamond engagement ring.
People think black diamonds are extraterrestrial 
Many people believe that black diamonds are extraterrestrial gems that have come from space. Now, we know that diamonds are formed in the Earth's crust, but we love this myth!  What makes this concept even better is that research has found that black diamonds do have extraterrestrial origin - they contain elements of nitrogen and hydrogen. Because of this, some scientists believe that black diamonds are the consequence of stellar ​supernova explosions. Alongside this, it is thought that when black diamonds first landed on earth, they were the size of asteroids, and more than a kilometer in diameter.
Are you looking for a black diamond engagement ring that is out of this world? Our Elsa Black Diamond Engagement Ring is the perfect choice. Made from 18 carat gold, this stunning ring features a central radiant cut black diamond in a four prong setting. Why not try and recreate the solar system and add sapphires, emeralds and rubies into the paving of this beautiful ring?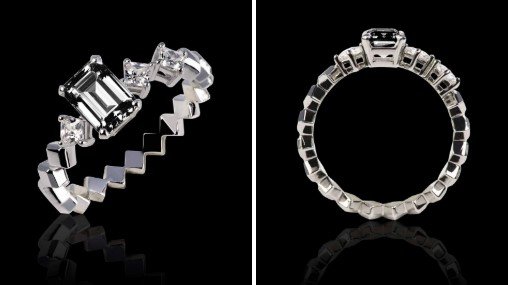 There are two types of Black Diamond 
When it comes to choosing a black diamond for your beloved's engagement ring, you'll have two types of black diamond to choose from; the majority of natural black diamonds undergo irradiation in order to enhance the facets of the stone. The second is a natural, untreated black diamond. Because this stone hasn't be irradiated,  you can see the stunning inclusions - natural black untreated diamonds are incredibly rare and typically have a higher price point.
Treated Black Diamonds are cheaper 
Black diamonds that have undergone treatment are less expensive than brilliant white diamonds, but they are arguably just as beautiful! Even though they are cheaper, it doesn't mean they are worthless. However, if you're looking to buy a black diamond as an investment piece, you should opt for a natural untreated black diamond! 
If you're after a black diamond engagement ring that will withstand the test of time and hold its value, then why not opt for this striking solitaire black diamond engagement ring? A solitaire style engagement ring is a timeless design, and combining it with a black diamond gives it a unique, modern and glamorous edge.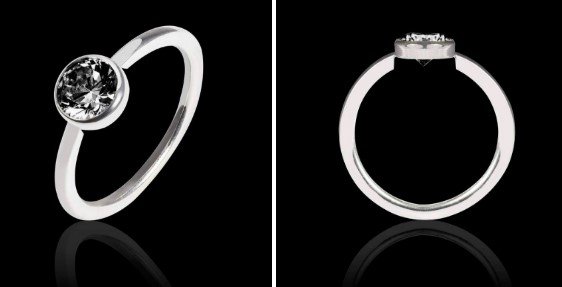 Cutting a Black Diamond requires patience and love 
Black diamonds have a combination of carbon and graphite atom - because of this,  it robs black diamonds of uniform crystallography, making them much harder to cut. While cutting these gems can be frustrating and time consuming, it takes a lot of patience, dedication and passion. This means that when you give your partner a black diamond engagement ring, you're gifting them a piece of jewellery that is full of love!
If you want a black diamond ring that demands attention, then this Entrelassée Black Diamond Engagement Ring with shoulder twists will do exactly that! Choose from white gold, yellow gold and rose gold. If you want to add even more glamour to this ring, then why not add some more fancy coloured diamonds to the band?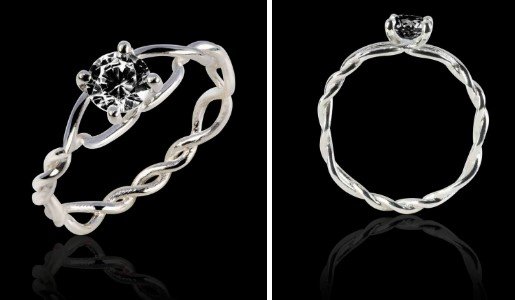 Order your custom black diamond engagement ring today 
Jaubalet's expert jewellers will create a completely unique black diamond engagement ring that's been designed by you. Our revolutionary 3D technology means that you can visualise your desired ring - our experts will then turn your creativity into a high quality, luxurious piece of jewellery. Get in touch with Jaubalet today.