With Wimbledon just a few weeks away (2nd July – 15th July 2018) it's time to perfect that Pimms recipe and get our tennis whites freshly pressed. It's also time to talk about one of our favourite pieces of jewellery - the tennis bracelet!
What is a Tennis Bracelet?
A tennis bracelet is a spectacular piece of jewellery that's worn on the wrist. There are a number of different designs and styles of tennis bracelets - the most popular being a single row tennis bracelet.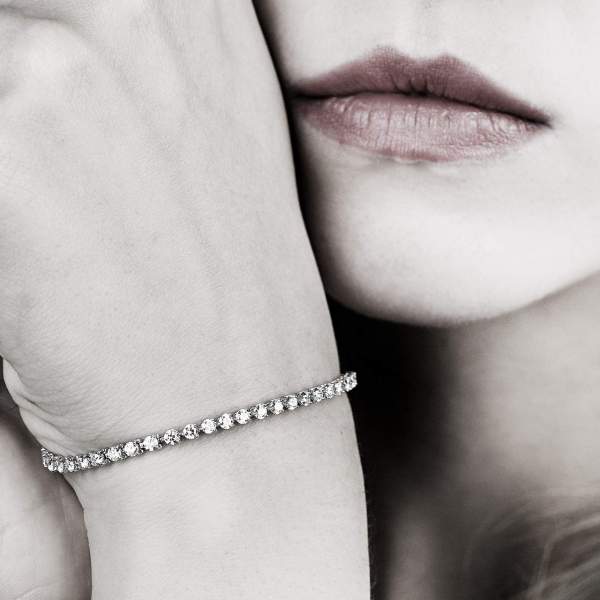 Where did the Tennis Bracelet get its name? 
The tennis bracelet's name was coined in 1987, after a professional tennis player lost her diamond bracelet in a US Open Tennis Match. Chris Evert had a prolific tennis career spanning from 1972 to 1989.  Evert won 18 Grand Slam singles championships and three doubles titles. During a fierce US Open tennis match Evert's luxury George Bedewi Diamond Bracelet snapped and fell off her wrist. Evert stopped the game and refused to play until her bracelet was found. This memorable moment saw the birth of the term 'Tennis Bracelet', and the rest is history.
How to create the perfect Tennis Bracelet
Designing the perfect tennis bracelet has never been easier with Jaubalet. Our expert jewellers will turn your dream diamond or gemstone bracelet into reality. However, there are a few things you need to take into consideration. For example, if you have an incredibly active lifestyle, you certainly don't want to be recreating the great diamond bracelet fiasco of '87.
Consider the style of Tennis Bracelet
A single row diamond or gemstone tennis bracelet with a secure clasp is perfect for those who are constantly on the go. If you want a change from chunky designer bangles, then a two or three row tennis bracelet with sapphires, emeralds or diamonds is an excellent investment.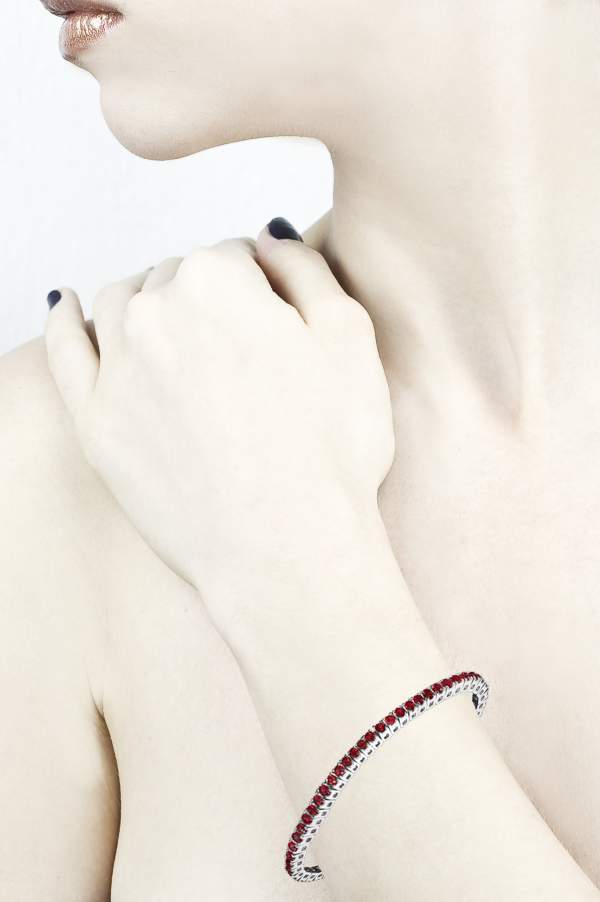 Single Row Tennis Bracelets 
The original Tennis Bracelet features a singular row of diamonds or gemstones secured in a prong metal setting. Today the tennis bracelet has evolved from a singular row of gems such as diamonds or rubies and now comes in an array of  shapes and sizes. 
Double Row Tennis Bracelets 
If you're looking for something that's a little different to the traditional single row diamond tennis bracelet, then you should consider a double row tennis bracelet. This wonderfully crafted piece of jewellery boasts two rows of diamonds and/or gemstones such as rubies or emeralds in a prong setting. The additional row of diamonds really stands out, and looks amazing with a number of outfits. A Double Row Tennis Bracelet can be created with a number of metal settings, diamond carats and gemstones.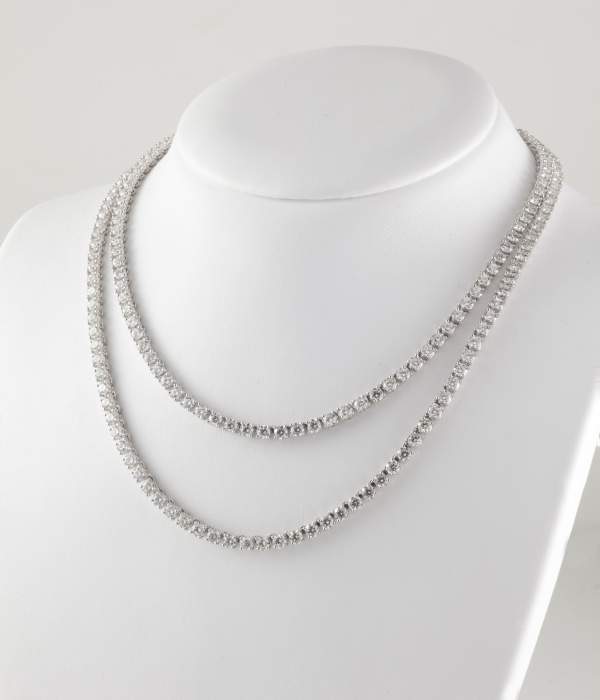 Three Row Diamond Tennis Bracelet
If you're after a piece of statement jewellery that catches the eye, then a three row tennis bracelet will do exactly that. Pull out all the stops with this truly elegant three row gem or diamond encrusted bracelet. Whether you want round cut, princess cut or cushion cut gemstones, the choice is yours. You'll feel like you're the centre of attention with this head turning design. 
Four Row Tennis Bracelet
For a truly luxurious piece of jewellery, the four row tennis bracelet is a one of a kind show stopper.  Four rows of brilliant diamonds or gemstones sit in your choice of metal, and will become a unique family heirloom.
Without Evert we may not have stunning tennis bracelets. Our expert jewellers can create a range of spectacular tennis bracelets in different styles and designs - it is entirely your choice!
Order your custom tennis bracelet today
Jaubalet's expert jewellers will create a completely unique tennis bracelet that's been designed by you. Our revolutionary 3D technology means that you can visualise your desired ring - our experts will then turn your creativity into a high quality, luxurious piece of jewellery. Get in touch with Jaubalet today.