We have spoken so much about diamond engagement rings and how to choose them and hopefully we have also spoken about not choosing a diamond ring.  There are four major precious gems out there being Diamonds, Sapphires, Rubies, and Emeralds.  All of these stones are great for engagement rings for different reasons.  The good thing about choosing one of these rings is choosing to truly customize the ring.  This is a way to express aspects of her personality in these rings.  We have already talked about birthstones and we will revisit that, but colours themselves have meanings and tones that can reflect her personality.  Red has certain meanings and can be a great choice for an engagement ring, but I repeat…it has to match her personality.  If you do not think that she would like a ruby than go with something else, but if you think that a diamond is too typical then this can be a great choice.  A ruby means love, commitment, integrity, bravery, and happiness.  You must love the person that you marry.  That is essential to hold a family together.  You must commit to each other and trust each other.  Lacy Green once said that "trust is like relationship glue, it holds relationships together" and she is correct.  Without trust, it is impossible to journey together on this trip called life.  You cannot have trust without commitment on both sides.  It takes integrity and bravery to start this journey with somebody that you love.  And finally, you must be happy, not happy all the time obviously but general happiness is important on this trip called Marriage.  The ruby symbolizes everything that it means to be married and to be a unit.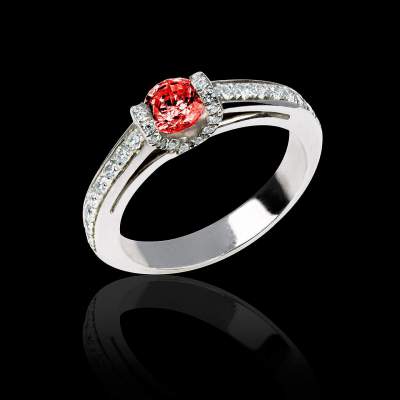 Why choose a Ruby Engagement Ring?: Birthstone?
If your woman was born in July, this ring is perfect for her.  The Ruby is the birthstone for those born in July.  Taking the month that she was born is a great idea for her engagement ring, because it means incorporating a part of her into your choice for her ring.  That in itself is very special.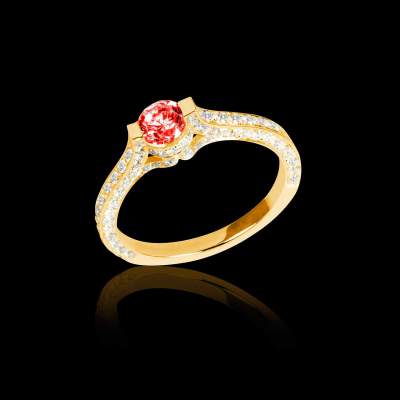 Why choose a Ruby Engagement Ring? : Royal Family?
The British Royal Family actually does have untraditional engagement rings in the family.  Kate Middleton got a Blue Sapphire Engagement Ring.  It is not odd to have an engagement ring that is traditional.  Tradition is great, but it is not for everybody.