Why Choose Custom-Made Jewellery?

 
There are many benefits of choosing custom-made, bespoke jewellery:
Firstly, you will be involved in every stage of the jewellery-making process. From design idea to choosing materials, deciding budget to making alterations and final completion, you're included in every step of the process. This means you'll be working closely with experienced jewellers so you can gain exclusive insight into the jewellery-making process and understand how your budget is being spent. Being this closely immersed in the process, you can meet directly with expert jewellers and gain one on one contact and support as your jewellery is made. What's more, you create the exact piece of jewellery you want - no settling on a ring or necklace you found that sort of matches your vision and ideas. With custom-made jewellery, you're in complete control of your stones, style, colours, size, and quality, so you create your dream piece that is perfectly tailored to you with all your favourite features in one piece. You'll be completely happy with your jewellery as it matches your exact vision.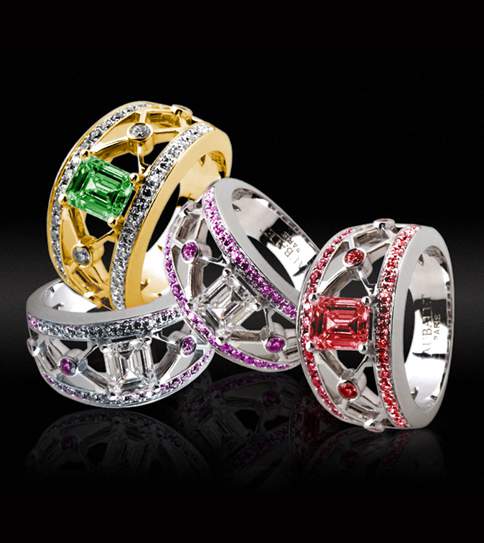 Inspiration Gallery
Check out our gallery to get some inspiration and ideas for designing your own custom-made jewellery.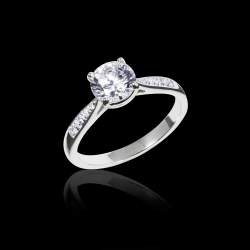 Engagement ring collection.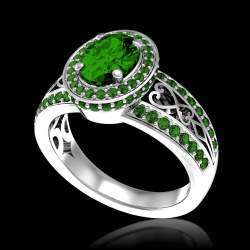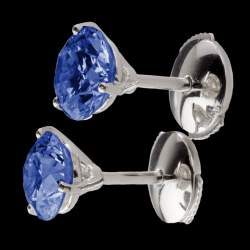 Rings and lacquer
If you choose a diamond centre stone, you then have the option to choose the quality of your diamond from among our selection.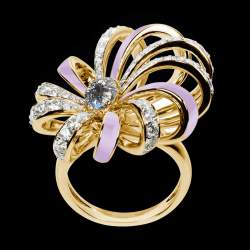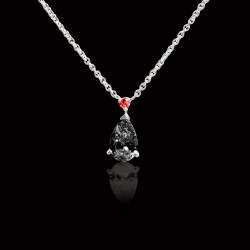 Pendant collection in black diamond.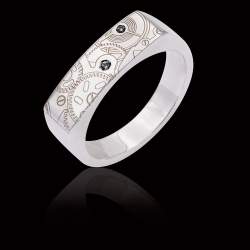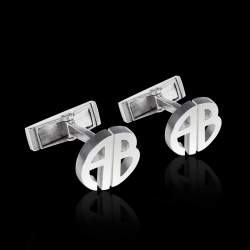 Our Process - Bringing Your Ideas to Life

 
Whether you want to design a bracelet, ring, necklace, earrings or pendant, Jaubalet uses both traditional and modern techniques when creating your custom-designed piece and works collaboratively with you every step of the way to transform your idea into reality. Here's how we bring your ideas to life:  
Ideation:
The first stage in any custom-design process is to generate ideas for your piece of jewellery. The ideation stage is where you will determine what your piece will look like. This includes deciding what the piece will be - a ring? necklace? bracelet? earrings? Decipher what shape you like best and what stones you will use - diamond? ruby? emerald? sapphire? What metals do you like? What size? What weight? What is your budget? Your jewellery makes a statement and expresses your personality, so what message do you want to communicate with this piece? Get these ideas down and our trusted craftsmen will help you turn your ideas into reality.
Sketch: 
Our skilled designers, experienced craftsmen, and expert jewellers work together with you to transcribe your idea into a sketch to help you realise your vision. We ensure you are entirely happy with the design of your bespoke jewellery so that we create a piece that meets your highest expectations
Painting:
We take your rough sketch and create a more detailed, full-colour gouache watercolour painting so that you can better visualise your unique piece of custom-made jewellery to ensure it meets your vision.
3D Computer Image
The painting of your jewellery is transformed using our innovative 3D technology. Our immersive digital experience takes the 2D painting and turns it into a 3D computer image so that you can view your jewellery on the screen from all angles and better envisage how it will look when finished.
3D Wax Model:
As part of our immersive 3D experience that is revolutionising the world of bespoke jewellery, we take the virtual model and materialise it using our innovative printing system to form a 3D wax prototype of your custom-designed piece. This wax model will bring your piece to life to allow you to try on your piece of jewellery, view it from all dimensions and angles, modify the piece as many times as you like before it enters the production phase to ensure it matches your ideas, check shape and proportions, and preview the final piece to ensure you are completely happy with it before you confirm your order.
Your Unique Piece of Jewellery is Created: 
Once you have confirmed that the 3D wax model matches your vision, your ring is manufactured and brought to life in our bespoke workshops. Our know-how and expertise brings you a custom-designed ring that exceeds your expectations. Our skilled craftsmen jewellers combine modern innovation with traditional jewellery techniques to create an exceptional piece that is unique to you.